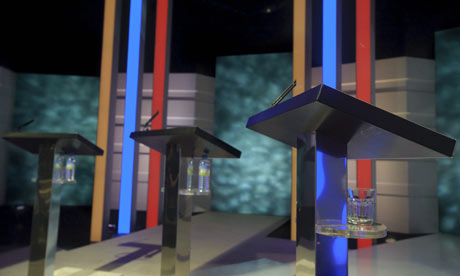 Nick Clegg came out on top. I don't think that anyone other than the most devout of the party faithful would try to say any different. So what does last night actually mean, who were the real winners and losers?
Let's start off with Labour. I suspect the Brown team thought that Cameron hadn't been properly quizzed and that these debate would uncover some gaping hole in Conservative policy or in DC's personality. Alistair Campbell has been moaning about the easy time the Conservative leader has been getting from the media and Brown's line about "this isn't Question Time it's answers time" is quite telling. Everyone knows Brown isn't as good in front of the camera as Cameron but his poor poll position meant that it was worth the risk of him being "beaten" by the Tory.
Nick Clegg was the big winner before a single word was spoken just by being an equal player in these debates. The third party has always had the advantage of being able to sound reasonable, put forward a wish list that they'll never need to implement and get less scrutiny than either the government or the opposition. This is exactly what happened last night.
David Cameron went into the debate with the highest expectations and the most to lose. If either Clegg or Brown performed better than expected it would be Cameron who would be seen as having lost ground.
From my point of view Brown was as dire as I expected, Cameron a little more nervous than I would have thought and did not perform to his full potential and Clegg did better than anyone predicted.
I still cannot understand why the debate made no attempt to tease out the Lib Dem's plans in the event of a hung parliament. To quiz them as though they might form the next government is ridiculous, even on their best possible performance they will not get a majority. I don't believe the questioning was biased or easy on Clegg but voters still have no idea what deals they would try to cut or what policies they would dig their heels in over.
The result last night presents each leader with a new position. Clegg now has the toughest job, Brown is clearly trying to woo voters with his constant "I think Nick agrees with me" lines and Clegg will come under pressure to either move closer to Labour or closer to us. He will also go into the next debate with expectations sky high. Might he have peaked too early?
Brown was crap, his gags looked forced, his smile looked painted on and his attempts to reach out to Lib Dem voters was about a subtle as a neon light. He went in with the bar set pretty low and yet he still managed to underperform. A rare gift indeed.
David Cameron could have lost a lot, he didn't. But the truth is he didn't really gain anything either, a neutral end result. He has a decent platform for the next two debates and now has a far easier job.
I'm fairly happy with the result, a big win for Cameron would have been nice but I'm not sure it would have been such good news in the long run. If everything had been the same as last night but with Clegg not quite as strong, but sill coming out on top, I would have put it down as the perfect result.